Common App

Common Application for Over 1000 Colleges

Save time with
Common App
and apply to many of the best private colleges and universities with just one application through commonapp.org. Make your college application process easy with just one common application used at more than 1000 schools in the U.S. and Europe.
Last updated on September 21, 2023 by College Financial Aid Advice.
What is Common App?
USC, University of Southern California

The
Common App
, also called the
Common Application
is used by colleges and universities that promote admission to college through a holistic process. A holistic college selection process includes objective criteria and subjective criteria, such as:
* academic recommendation
* writing sample - A well-written essay is important part of your Common App. A Personal Essay is required for many schools. Here is a link to the typical Common Application Essay Prompts.
* campus diversity considerations
If a college or university used only objective criteria, such as SAT or ACT scores and GPA, they do not use the common application. This is true for most public (state) colleges and universities.
---
Online Common Application
The Common Application Online for 2024 - 2025 is available online starting in August 2023 (application is for fall 2024). You can set up an account earlier than that day, and start planning which colleges you will apply for.
Undergraduate students may apply using either the First Year Admission Form, or transfer students should use the Transfer Application. Additional forms and supplemental applications are available at the commonapp.org website listed below:
Note: If you are a parent or counselor, you can also register online to see all the information and questions at the commonapp.org website. This allows you to check out all the information without actually being a student applying to colleges using the Common App.
Need Financial Aid? Check out these useful pages about financial aid applications and the real cost of attending a private vs. public college.
FAFSA
---
Which Schools Use the Common Application?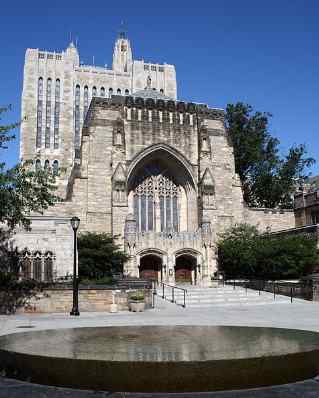 Yale University

The following colleges and universities, listed in alphabetical order, use the CommonApp for college application. This is only a partial list, as additional schools are added and occasionally a school may drop out from this application program.
A-C List of Colleges and Universities Common App
Adelphi University
Agnes Scott College
Alaska Pacific University
Albany College of Pharmacy and Health Sciences
Albion College
Albright College
Alfred University
Allegheny College
Alma College
American University
American University of Paris
American University of Rome
Amherst College
Anna Maria College
Arcadia University
Assumption College
Augsburg College
Augustana College (Illinois)
Augustana College (South Dakota)
Austin College (Texas)
Babson College
Baldwin-Wallace College
Bard College
Barnard College
Bates College
Belmont University
Beloit College
Bennington College
Bentley University
Berry College
Birmingham Southern College
Blackburn College
Boston College (MA)
Boston University (Massachusetts)
Bowdoin College
Bradley University
Brandeis University
Brown University
Bryant University
Bryn Mawr College
Bucknell University
Burlington College
Butler University
Caldwell College
California Institute of Technology (Caltech)
California Lutheran University
Calvin College
Canisius College
Carleton College
Carnegie Mellon University
Carroll College (Montana)
Carroll University
Case Western Reserve University
Castleton State College
Catholic University of America
Cazenovia College
Cedar Crest College
Centenary College (Louisiana)
Centenary College (NJ)
Centre College
Champlain College
Chapman University
Chatham University
Christian Brothers University
Christopher Newport University
Claremont McKenna College (CA)
Clarkson University
Clark University
Coe College
Colby College
Colby-Sawyer College
Colgate University
College of Idaho
College of Mount Saint Vincent
College of New Jersey
College of New Rochelle
College of Notre Dame of Maryland
College of the Atlantic
College of the Holy Cross
College of William & Mary
College of Saint Rose
College of St. Joseph
College of Wooster
Colorado College
Colorado State University
Columbia College Chicago
Columbia University
Concordia College
Concordia University
Concordia University Irvine
Connecticut College
Converse College
Cornell College
Cornell University
Creighton University
Curry College
D-L List of Colleges and Universities Common Application
Daemen College
Dartmouth College
Davidson College
Denison University
DePaul University
DePauw University
DeSales University
Dickinson College
Dillard University
Dominican University of California
Dowling College
Drake University
Drew University
Drexel University
Drury University
Duke University
Earlham College
Eastern Connecticut State University
Eckerd College
Elizabethtown College
Elmira College
Elms College
Emerson College
Emmanuel College
Emory & Henry College
Emory University
Fairfield University
Fisk University
Flagler College
Florida Institute of Technology
Florida Southern College
Fontbonne University
Fordham University
Franklin and Marshall College
Franklin College Switzerland
Franklin Pierce University
Franklin W. Olin College of Engineering
Furman University
Gannon University
George Washington University
Gettysburg College
Gonzaga University
Goshen College
Goucher College
Green Mountain College
Grinnell College
Guilford College
Gustavus Adolphus College
Hamilton College
Hamline University (Minnesota)
Hampden-Sydney College
Hampshire College
Hanover College
Hartwick College
Harvard University
Harvey Mudd College (Calif.)
Haverford College
Hendrix College
Hillsdale College
Hiram College
Hobart and William Smith Colleges
Hofstra University
Hollins University
Hood College
Hope College
Howard University
Hult International Business School
Husson University
Illinois College
Illinois Institute of Technology
Illinois Wesleyan University
Immaculata University
Iona College
Ithaca College
Jacobs University Bremen
John Cabot University in Rome
John Carroll University
Johns Hopkins University
Johnson State College
Juniata College
Kalamazoo College
Keene State College
Keele University
Kenyon College
Keuka College
Keystone College
Kings College
Knox College
Lafayette College
Lake Erie College
Lake Forest College
La Salle University
Lasell College
Lawrence Technological University
Lawrence University
Lehigh University
Le Moyne College
Lesley College
Lewis & Clark College (Oregon)
Lincoln University of Pennsylvania
Linfield College
Lipscomb University
List College The Jewish Theological Seminary
Long Island University Brooklyn Campus (New York)
Long Island University - C.W. Post Campus
Loyola Marymount University
Loyola University Maryland
Loyola University New Orleans
Luther College
Lycoming College
Lyndon State College
Lynn University
M-R List of Colleges and Universities CommonApp
Macalester College
Manchester University
Manhattan College
Manhattanville College
Marietta College
Marist College
Marlboro College
Marquette University
Marymount Manhattan College
Marymount University
Maryville University of St. Louis
Massachusetts College of Pharmacy and Health Sciences
Massachusetts College of Liberal Arts
McDaniel College
Menlo College
Mercer University
Mercyhurst College
Meredith College
Merrimack College
Miami University (Ohio)
Middlebury College
Millsaps College
Mills College
Molloy College
Moravian College
Morehouse College
Mount Holyoke College
Mount Saint Mary College (New York)
Mount St. Mary's College (Los Angeles, CA)
Muhlenberg College
Naropa University
Nazareth College
Newbury College
New College of Florida
New England College
New School - Eugene Lang College
New York Institute of Technology (NYIT)
New York University (NYU)
Niagara University
Nichols College
Northeastern University
Northland College
Northwestern University
Notre Dame de Namur University (Belmont, California)
Oberlin College
Occidental College
Oglethorpe University
Ohio Northern University
The Ohio State University
Ohio Wesleyan University
Oklahoma City University
Otterbein University
Pace University
Pacific Lutheran University
Pacific University
Pepperdine University
Philadelphia University
Pitzer College
Plymouth State University
Polytechnic Institute of New York University
Pomona College (Cal.)
Presbyterian College
Prescott College
Princeton University
Providence College
Quinnipiac University
Ramapo College of New Jersey
Randolph College
Randolph-Macon College
Reed College (Oregon)
Regis College
Regis University
Rensselaer Polytechnic Institute
Rhode Island College
Rhode Island School of Design
Rhodes College
Rice University
Richard Stockton College of New Jersey
Richmond The American International University in London
Rider University
Ringling College of Art and Design
Ripon College
Roanoke College
Rochester Institute of Technology
Roger Williams University
Rollins College
Rosemont College
Rowan University
Russell Sage College
S-T List of Colleges and Universities Common App
Sacred Heart University
Sage College of Albany
Saint Anselm College
Saint Francis University
Saint John's University (College of Saint Benedict)
Saint Joseph's College of Maine
Saint Josephs University
Saint Leo University
Saint Louis University
Saint Martin's University
Saint Mary's College of California
Saint Marys College of Indiana
Saint Marys University of Minnesota
Saint Michaels College
Saint Peters College
Saint Vincent College
Salem College
Salisbury University
Salve Regina University
Samford University
Santa Clara University (California)
Sarah Lawrence College
School of the Art Institute of Chicago
Scripps College
Seattle Pacific University
Seattle University
Seton Hall University
Seton Hill University
Sewanee: The University of the South
Siena College
Sierra Nevada College
Simmons College
Simpson College
Skidmore College
Smith College
Soka University of America
Southern Methodist University
Southern New Hampshire University
Southwestern University
Spelman College
Spring Hill College
Stanford University (Palo Alto, CA)
St. Bonaventure University
St. Catherine University
St. Edwards University
St. Thomas University
Stephens College
Stetson University
Stevens Institute of Technology
Stevenson University
St. John Fisher College
St. Johns College (Maryland)
St. Johns College (New Mexico)
St. Josephs College - Brooklyn Campus
St. Joseph's College - Long Island Campus
St. Lawrence University
St. Mary's College of Maryland
St. Norbert College
St. Olaf College
Stonehill College
St. Thomas Aquinas College
Suffolk University
SUNY Binghamton University
SUNY Buffalo State College
SUNY College at Brockport
SUNY College at Geneseo
SUNY College at Old Westbury
SUNY College at Oneonta
SUNY College of Environmental Science & Forestry
SUNY Cortland
SUNY Fredonia
SUNY Institute of Technology
SUNY Maritime College
SUNY Morrisville State College
SUNY New Paltz
SUNY Oswego
SUNY Plattsburgh
SUNY Potsdam
SUNY Purchase College
SUNY Stony Brook University
SUNY University at Albany
SUNY University at Buffalo
Susquehanna University
Swarthmore College
Sweet Briar College
Syracuse University
Tennessee Wesleyan College
Texas Christian University
Thiel College
Thomas College
Towson University
Transylvania University
Trinity College
Trinity University
Tufts University
U-Z List of Colleges and Universities Common App
Union College
University of Chicago
University of Connecticut
University of Dallas (TX)
University of Dayton
University of Delaware
University of Denver
University of Evansville
University of Findlay
University of Great Falls
University of Hartford
University of Illinois at Chicago
University of Kentucky
University of LaVerne
University of Maine
University of Maine at Farmington
University of Maine at Machias
University of Maryland, Baltimore County
University of Mary Washington
University of Massachusetts Amherst
University of Massachusetts Boston
University of Massachusetts Dartmouth
University of Massachusetts Lowell
University of Miami
University of Michigan
University of New England
University of New Hampshire
University of New Haven
University of New Orleans
University of North Carolina Asheville
University of North Carolina at Chapel Hill
University of North Carolina at Wilmington
University of Notre Dame
University of Pennsylvania
University of Portland
University of Puget Sound
University of Redlands
University of Rhode Island
University of Richmond
University of Rochester
University of Saint Joseph
University of San Diego (California)
University of San Francisco (Cali.)
University of Scranton
University of Southern California (USC)
University of Southern Maine
University of St Andrews
University of Stirling
University of Tampa
The University of Tennessee Knoxville
The University of Tulsa
University of the Pacific (UOP)
University of the Sciences
University of Vermont
University of Virginia
Ursinus College
Utica College
Valparaiso University
Vanderbilt University
Vassar College
Villanova University
Virginia Intermont College
Wabash College
Wagner College
Wake Forest University
Warren Wilson College
Wartburg College
Washington and Lee University
Washington College
Washington & Jefferson College
Washington University in St. Louis
Webster University
Wellesley College
Wells College
Wentworth Institute of Technology
Wesleyan University
Western New England University
Westminster College (Missouri)
Westminster College (Pennsylvania)
Westminster College (Utah)
Westmont College
Wheaton College
Wheeling Jesuit University
Wheelock College
Whitman College
Whittier College
Whitworth University
Willamette University
William Jewell College
Williams College
Wilson College
Wittenberg University
Wofford College
Woodbury University
Worcester Polytechnic Institute
Xavier University
Xavier University of Louisiana
Yale-NUS College
Yale University
Home › FAFSA › Common App