FAFSA Deadline
When is the FAFSA deadline? It depends. You should submit your FAFSA application as soon as possible each year. Most federal and state aid is limited and is awarded on a first come, first served basis.
Last updated on September 21, 2023 by College Financial Aid Advice.
FAFSA Deadline for Federal Financial Aid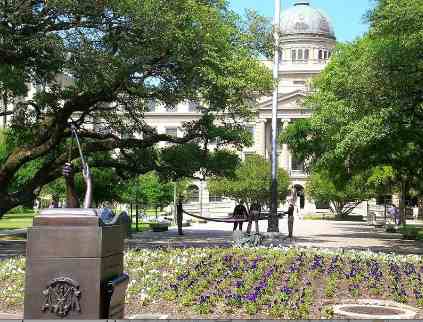 Texas A&M University

When are the FAFSA deadlines for federal financial aid for college students? It depends on which school year. Apply early as many programs run out of funds. You can always count on getting a
federal student loan
, but the amount is limited.
2024 – 2025 school year (July 1 2024 – June 30 2025) – FAFSA deadline is June 30, 2024. Apply as early as possible after October 1 2023.
b>2023 – 2024 school year (July 1 2023 – June 30 2024) – FAFSA deadline is June 30, 2024. Apply as early as possible as most funds are already depleted.
How to Complete FAFSA Application The FAFSA application is key to receive not just federal financial aid, but also state aid and many college grants and scholarships. To receive the best financial aid package, be aware of at least FAFSA deadlines:
1. Federal aid deadline. The federal deadline qualifies you for federal aid, such as Pell Grants and federal student loans.
2. State aid deadline. These state FAFSA deadlines (shown in the table below) apply to the funding offered by your state.
3. Institution deadeline. You will also need to check with each college or university for their FAFSA deadlines.
Which is most important? They all are. You may receive financial aid from all 3 sources, and each person's situation is unique. Apply early for your best chance to receive a great package of college scholarships, grants, and student loans.
---
2023 FAFSA Deadlines by State
To be eligible for state financial aid, you must submit your 2023 - 2024 FAFSA application for student aid by the due date below for your state.
In addition, a state may require an additional application or information to be eligible for state aid. For example, in California, the popular Cal Grants program requires the FAFSA and a verified Cal Grant GPA be submitted by the FAFSA due date to be eligible for state grants.
If your state or territory is not on this list, check with your financial aid office.
Note: The dates in the following table are for 2023-24. The dates for 2024-25 are typically a year later.
States A - K | States L - N | States O - W
States A - K
| State | Code | State Aid FAFSA Deadline |
| --- | --- | --- |
| Alabama | AL | Check with financial aid administrator |
| Alaska | AK | AK Alaska Performance Scholarship – June 30 2023 for priority consideration. Awards made until funds are depleted. Alaska Education Grant - ASAP after October 1 2022. |
| Arizona | AZ | Check with financial aid administrator |
| Arkansas | AR | Academic Challenge July 1 2023; ArFuture Grant fall term July 1 2023, spring term Jan 10. 2024. |
| California | CA | Initial awards – March 2 2023 (also submit school-certified GPA), some community college awards – September 2 2023 (date postmarked) |
| Colorado | CO | Check with college financial aid administrator |
| Connecticut | CT | February 15 2023 |
| Delaware | DE | April 15 2023 due date (date received) |
| District of Columbia | DC | DC Tuition Assistance Grant and DC OneApp deadline August 1 2023 |
| Florida | FL | May 15 2023 (date processed) |
| Georgia | GA | Refer to Georgia Student Finance Commissions's website for info |
| Hawaii | HI | Check with college financial aid administrator |
| Idaho | ID | Opportunity Scholarship March 1 2023 (date received) |
| Illinois | IL | Refer to Illinois Student Assistance Commissions's website for current deadlines |
| Indiana | IN | Frank O'Bannon Grant and 21st Century Scholarship: April 15 2023. |
| Iowa | IA | July 1 2023 (date received); some priority deadlines earlier |
| Kansas | KS | April 1 2023 (date received) or earlier for priority consideration. |
| Kentucky | KY | As soon as possible after October 1 2022. Awarded until funds depleted. |
States L - N
| State | Code | State Aid FAFSA Deadline |
| --- | --- | --- |
| Louisiana | LA | Feb 1 2022 highly recommended, accepted through July 1 2023 |
| Maine | ME | May 1 2023 (date received) |
| Maryland | MD | March 1 2023 (date received) |
| Massachusetts | MA | May 1 2023 (date received) for priority consideration |
| Michigan | MI | March 1 2023 (date received) |
| Minnesota | MN | 30 days after term starts (date received) |
| Mississippi | MS | MTAG and MESG Grants: Oct 15 2023; HELP Grant: April 30 2023 (date received) |
| Missouri | MO | Priority by February 1 2023. Applications accepted through April 1 2023 (date received) |
| Montana | MT | Priority consideration by Dec 1 2022. Check with the financial aid office. |
| Nebraska | NE | Check with college financial aid administrator |
| Nevada | NV | Nevada Promise Scholarship: March 1 2023. All other aid check with college financial aid office |
| New Hampshire | NH | Check with college financial aid office for FAFSA due date |
| New Jersey | NJ | 2022-2023 Tuition Aid Grant recipients - April 15 2023 (date received), all other applicants September 15 2023 for fall and spring terms, February 15 2024 spring term only |
| New Mexico | NM | Check with college financial aid office |
| New York | NY | June 30 2024 (date received) |
| North Carolina | NC | ASAP after October 1 2022. Awards given until funds run out. |
| North Dakota | ND | Apply as soon as possible after October 1 2022. |
States O - W
| State | Code | State Aid FAFSA Deadline |
| --- | --- | --- |
| Ohio | OH | October 1 2023 (date received) |
| Oklahoma | OK | Check. with your financial aid administrator. |
| Oregon | OR | OSAC Private Scholarships: March 1 2023. Oregon Opportunity Grant: ASAP after October 1 2022. Oregon Promise Grant: contact state agency |
| Pennsylvania | PA | May 1 2023 (date received); for some community college and trade school programs - August 1 2023 |
| Rhode Island | RI | Check with the financial aid office. |
| South Carolina | SC | Tuition Grants - June 30 2023 (date received), SC Commission on Higher Education - ASAP after October 1 2022 as awards made until money is depleted |
| South Dakota | SD | Check with college financial aid administrator |
| Tennessee | TN | March 1 2023 for prior year State Grant and Tennessee Promise recipients and new applicants (note awards made for prior recipients; new applicants based on need until money is depleted); State Lottery - fall term Sep 1 2023 and spring and summer terms Feb 1 2024 |
| Texas | TX | Jan 15 2023 for priority consideration (date application received). Check with financial aid office for 2 year colleges and private colleges. |
| Utah | UT | Check with college financial aid administrator for FAFSA due date |
| Vermont | VT | ASAP after October 1 2022 as awards made until money is depleted |
| Virginia | VA | Check with college financial aid administrator |
| Washington | WA | ASAP after October 1 2022 as awards made until money is depleted |
| West Virginia | WV | Promise Scholarship - March 1 2023, new applicants submit additional form. WV Higher Education Grant Program and WV Invests Grant- April 15 2023. |
| Wisconsin | WI | Check with college financial aid administrator |
| Wyoming | WY | Check with college financial aid administrator |
FAFSA Deadline Source: FAFSA, US Department of Education, Federal Student Aid
Home › FAFSA › FAFSA Deadline