Printable FAFSA Application
Use the printable FAFSA application to enter data online or print a FAFSA form. Always submit the earliest as possible for the best chance of receiving college financial aid. The application is available on October 1 each year (October 1 2022 for school year 2023-2024).
Last updated on August 13, 2022 by College Financial Aid Advice.
Print a FAFSA Form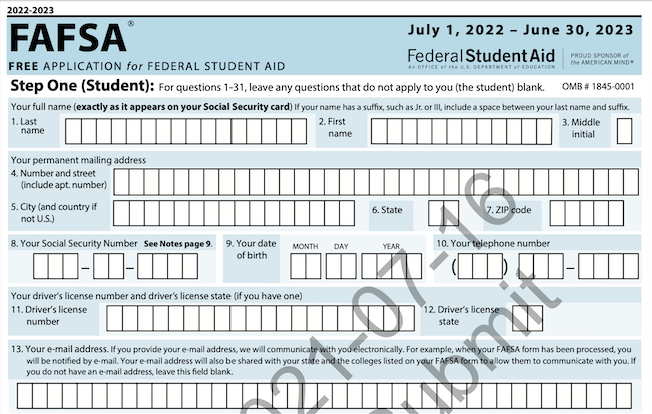 Printable FAFSA application for 2022 - 2023

I think the best way to start your FAFSA application for federal student aid is to print a FAFSA form. Although most people submit the FAFSA financial aid form online, it is very important to not make any errors. Most people make fewer errors when they proofread a paper copy instead of viewing online. The form can be confusing, especially since it assumes the student is filling out the form when in many cases it is the parent.
One nice feature of the printable FAFSA form is you can fill in the form online before you print it. This makes it easy to check once it is printed. I like to use a colored highlighter pen to highlight the items that need further clarification, such as the net worth of investments.
After you fill out the paper copy of the FAFSA, I recommend entering the data online in the application FAFSA free online.
There are over a 100 questions in the printable FAFSA form and the form is color-coded, and the color changes each year. The form is divided into seven (7) sections. Sections one, two, three, five and six pertain to the student. Section four pertains to the parent(s) and is colored a different color. Finally, section seven pertains to both the student and the parent(s) where both need to read, sign, and date the form.
Or, you may find them in paper form at your local library or financial aid office by mid-January. Otherwise, you may call (800) 433. 3243 to request the paper form to be sent to you by mail.
You may submit your FAFSA application beginning October 1st of the student's senior year in high school, and a new one must be submitted each year. The form must be received by the Federal Student Aid Office usually by the end of June, but earlier is better. To be eligible for state financial aid, the application must be submitted by earlier deadlines. See the list of
FAFSA Deadlines
for each state.
If you are mailing a paper copy of your FAFSA, you must send it to:
Federal Student Aid Programs
P.O. Box, 4691
Mt. Vernon, IL 62864-0059
It is advised that you make a copy of your application before you sent it. After your application is processed, the Federal Student Aid Office will send you a summary of your information in a report that is called Student Aid Report or SAR.
Home › FAFSA › Printable FAFSA Application