Merit Based Scholarships

Apply for these
merit based scholarships
for college for 2022 Students who are leaders, innovators, and top students can receive college grants and scholarships based on merit. Scholarships are available for high school students and college students. Explore some of these merit based college grants and scholarships listed below.
Most scholarships and grants are awarded based on merit, which can be academic, leadership, artistic or other talent. Check out some of these great opportunities to cash in on your talent!
Last updated on May 25, 2022 by College Financial Aid Advice.
Merit Based Scholarships for College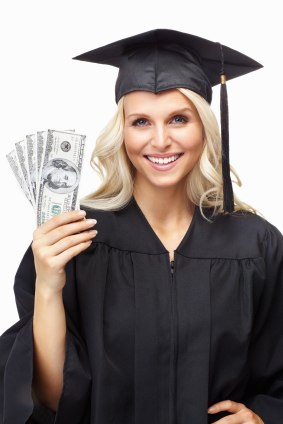 Davidson Fellows Awards
Application Deadline Outside the box due in January, preliminary applications in February, and final applications in March of each year.
Award Amount multiple awards of $50,000, $25,000 or $10,000 scholarships each year
This is one of the best college scholarships for outstanding gifted and talented students under age 18, including high school students in all grades. Scholarship applicants must have completed a significant piece of work in one of the following categories: (1) philosophy (2) music (3) literature (4) science (5) mathematics (6) technology or (7) "outside the box. The scholarship money may be used up to 10 years after the award. For more information on these Davidson Fellows Awards merit based scholarships see www.davidsongifted.org
---
Application Deadline PSAT test in fall of junior year of high school
Award Amount $2500, plus eligible for other awards.
National Merit Scholarships are government scholarships provided by the federal government to the top 1% students in the United States, based upon their PSAT test scores. This is one of the premier merit based scholarships for high school juniors in the U.S. The application process starts by taking the PSAT test in the junior year of high school. For more information see National Merit Scholars Program.
Davis Putter Scholarships
Application Deadline March each year
Award Amount Varies, up to $8000 depending on need (20+ awards may be given each year)
Scholarship for student activists including undergraduate and graduate students. Applicants must be involved in struggles for important issues that impact society such as civil rights, economic justice (perhaps the 99% movement is one possibility), international solidarity and other issues that are progressive in nature Applicants must be living in the USA and plan to attend school here, but do not need to be US citizens. For online application for the Student Activist Scholarships see www.davisputter.org
---
Coca Cola Scholars Program
Application Deadline open August 1 – October 31
Award Amount up to $20,000
Coca Cola Foundation offers merit based scholarships for high school seniors attending a 4 year college, who have demonstrated leadership skills and a lifelong commitment to community leadership ad service. For more information see Coca Cola Scholarship.
---
Application Deadline October - December each year
Award Amount 100 awards each year - $12,000 national winner, other semi-finalist award of $5,000 or more, and other awards of $1,000 each.
Open to high school seniors who are nominated by the principal of their high school. Nominees must also write an essay. Selection is based primarily on leadership, and student typically is in top 20% of graduating class. For more detailed Principals Leadership Awards scholarship requirements see www.principals.org
---
Application Deadline October - November each year
Award Amount $12,000 first place, $8000 second place, $5000 third place, $3000 fourth place, and $2000 fifth place.
Open to high school students who deliver talks to younger children in their community in topics ranging from safety and health issues. School officials nominate students for local congress, where they can advance and win up to $12,000 in scholarships. These are merit based scholarships for college based upon leadership and academic strength. For more detailed Moose Lodge Leadership scholarship requirements and scholarship application see www.mooseintl.org
Application Deadline December each year
Award Amount 500 4-year scholarships ranging from $1000 to $12,500 per year. Male and female applicants compete separately.
The Elks National Foundation offers a great scholarship program open to high school seniors who are US citizens. Applicants are judged on their academic achievement, leadership skills, and financial need. Applications are submitted to their local Elks Lodge. Outstanding candidates advance through local, district and state competitions. The top 20 finalists are invited for a leadership weekend in Chicago to compete for the top prizes. Additional scholarships for college may be awarded by the local Elks Lodge, who also offers other merit-based scholarships for children and grandchildren of Elks members. For the Elks Most Valuable Student Competition scholarship application and information see www.elks.org/enf/scholars/
---
Application Deadline May each year
Award Amount 20 $1500 scholarships, one $2500 and one $5000 scholarship
BCU credit union is offering scholarships for high school seniors heading to college. For the BCU scholarship application and information see bcu.org/scholarship
---
Application Deadline June each year
Award Amount 10 or more renewable scholarships ranging from $3000 to $5000 per year.
High school seniors and college students at 4-year college or university are eligible to apply for renewable awards of $3000 to $5000 per year. May be renewed up to 3 times. Must be dependent child of Danaher corporation employee to qualify. Some awards are based on merit only, and some require demonstrated financial need. Danaher has a large family of companies including Beckman Coulter, Sciex, Leica, Radiometer, Hach, Pall, Nobel Biocare, Phenomenex, Cepheid, and many more, so ask if your parent works for one of them. Minimum GPA 3.0 on a 4.0 scale required. Applications area available from Danaher Connect intranet.
---
ERCA Community Contribution Scholarship
Application Deadline July each year
Award Amount $1000 award for 25 scholarship recipients
This is one of the scholarships for high school seniors who have provided outstanding community service and who are going to attend college. Scholarship applicants must have recognized and solved a problem in their community. For more detailed ERCA Community Service scholarship requirements and scholarship application see www.studentresearch.org
---
Milton Fisher Scholarship for Innovation and Creativity
Application Deadline April each year
Award Amount up to $5000 per year for 4 years
This scholarship is for students who demonstrate outstanding innovation and creativity. It is limited to high school juniors, seniors or recent graduates from Connecticut and New York City who plan to attend college in any state, or students from any state who will attend college in Connecticut or NYC. Scholarships requirements include solving problem in new or unusual way, or helping their community by providing a solution to a problem or creating a new group to address an important need. Financial need is not required, but does impact the amount of the award. For more Innovation and Creativity Scholarship information and application see www.cfgnh.org
---
ESA Foundation General Scholarships
Application Deadline January each year
Award Amount multiple scholarships awarded at $1000
This is a great merit based scholarships program for well rounded students, based upon character, leadership, service, financial need and scholastic ability. Open to high school seniors, college students, technical schools and students enrolled in online learning.
---
Siemens Awards for Advanced Placement (AP Exams)
Application Deadline none
Award Amount 100 state scholarships $2000 (1 male and 1 female from each state), and 2 national scholarships ($5000 for one male and female student), and teacher awards of $1000 - $5000.
These merit scholarships are based upon the top high school seniors with the most scores of "5" on 8 different AP exams: biology, calculus BC, chemistry, computer science A, environmental science, physics C mechanics, physics C electricity and magnetism, and statistics. Winners are notified by College Board, so no application is required.
---
Home › Scholarships › Merit Based Scholarships