Equitable Foundation Scholarship
The Equitable Foundation Scholarship 2024 program offers Equitable Excellence Scholarships for high school seniors attending college. 
The scholarship program recognizes students who show potential by demonstrating these qualities: leadership, determination and resilience. 100 recipients will receive $5000 per year for up to 4 years, and another 100 recipients will receive one-time scholarships of $2500.
Last updated on November 25, 2023 by College Financial Aid Advice.
Equitable Excellence Scholarship 2024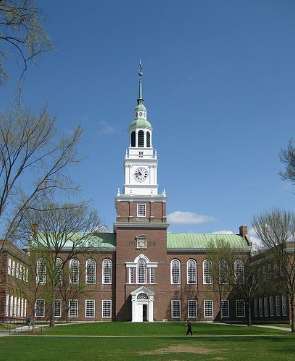 Dartmouth College
Equitable (formerly AXA Equitable and before that AXA) runs the Equitable Foundation, which offers the Equitable Excellence Scholarship program.
Multi-Year Award Recipients - $5,000 per year awards for 100 recipients, for a maximum of 4 years ($20,000 total).
One Time Award Recipients - $2,500 one time awards for 100 recipients. These funds are intended to help with immediate costs associated with college such as tuition, books or room and board.
Equitable Excellence Scholarship Deadline - The Equitable Excellence Scholarship program will be accepting applications in the fall, typically starting in October. We suggest you apply early because in prior years, only the first 10,000 applications were considered.
Other Benefits - In addition to the scholarships, recipients have the opportunity to participate in mentoring, networking and professional skill-building programs.
---
Equitable Foundation Scholarship Requirements
Requirements to Apply
- These are the requirements to apply for Equitable Foundation Scholarship program:
* Be a current high school senior.
* Plan to enroll full-time in an accredited two- or four-year college or university in the United States for the entire upcoming academic school year.
* Be a U.S. citizen or legal resident living or claiming residency in one of the 50 U.S. states, District of Columbia or Puerto Rico.
* Be willing to provide a release to the Equitable Foundation to allow them to publicize their identities, relevant achievements, and photographs for promotional activities (e.g. publicize the winners).
When the application opens, applicants will be asked to submit an essay describing how they exhibit courage in pursuing what's possible, display strength in managing challenges and share wisdom with others.
Equitable Foundation Scholarship Application Form - The Equitable Excellence Scholarship application form will be available online. See additional information at equitable.com/foundation.
More College Scholarships

Scholarships for High School Seniors
Bill Gates Scholarship for Minorities
Home › Scholarships › Equitable Foundation Scholarship