Wells Fargo Scholarship

Apply for a Wells Fargo scholarship for college for 2023, one of the corporate college scholarships. Wells Fargo Bank offers a $5000 public sweepstake and supports a variety of public scholarships for underrepresented groups. They also offer employee tuition reimbursement and scholarship support for employee's dependents.
Last updated on June 3, 2023 by College Financial Aid Advice.
Wells Fargo Sweepstakes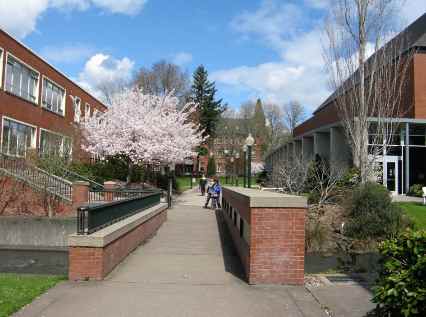 Willamette University, Salem, Oregon

Wells Fargo offers a scholarship sweepstake open to both high school and college undergraduate students for a chance to win $5000 to pay for college. It is called the 'Wells Fargo College STEPS Sweepstakes'.
During the current sweepstakes period (from July 1 through June 30) Wells Fargo bank will award a total of $40,000 - Three $5000 prizes to high school students and another three $5000 prizes to undergraduate college/university students. Additional smaller awards may also be offered.
The awards are non-renewable, and are not based on the student's academic performance or financial needs.
The Wells Fargo College STEPS Sweepstake is available to high school and college students who meet the following general requirements:
1. Are a legal resident of the U.S.
2. Must be a full-time or part-time student attending an accredited high school, home-school program, college, university, or trade school
3. Must be at least 14 years of age
4. For more information and to see the Wells Fargo scholarship application you may visit wellsfargo.com.
Please be aware that by signing up for this sweepstakes you will be giving Wells Fargo permission to also send you marketing information on their financial services and products including their student loans.
For more information see collegesteps.wf.com.
---
Wells Fargo Scholarship Programs
Wells Fargo Bank supports a variety of public scholarships for underrepresented groups, such as African Americans, American Indians, and people with disabilities. Here are some of the Wells Fargo Scholarships that are offered.
Wells Fargo Scholarships for African Americans - 138 scholars will receive $5000 need-based awards. Must attend select Historically Black Colleges and Universities (HBCUs) and Predominantly Black Institutions (PBIs). For more information see www.tmcf.org.
Wells Fargo Scholarships for People with Disabilities - Applicants with disabilities must be high school seniors or graduates, or current college undergraduates planning to enroll, or who are already enrolled, in undergraduate study at an accredited U.S. two- or four-year college. The program will award up to $2,500 scholarships for full-time students and up to $1,250 scholarships for half-time students. Scholarships are renewable. This scholarship is opening January 2023. Note: Only the first 700 applications will be accepted. For information on how to apply see wells-fargo-scholarship-program.
Wells Fargo Scholarships for American Indians - Scholarships are available for select majors for eligible American Indian and Alaska Native undergraduate (juniors and seniors) and graduate students who are pursuing degrees full-time at an accredited college or university. Must major in: gaming, tourism, financial, or hospitality industries. Need-based awards up to $2,500 for undergraduate and $5,000 for graduate per academic year. For more information see wells-fargo-american-indian.
Wells Fargo Scholarships for Employees
Tuition reimbursement for employees
- Wells Fargo will reimburse eligible employees for tuition expenses up to $5,000 annually.
Scholarships for dependent children - Several scholarships are offered to children of Wells Fargo employees, with awards ranging from $1,000 to $3,000 for college or vocational school programs. Eligible applicants must: be high school seniors, college undergraduates or graduates who are enrolled or planning to enroll in a full-time undergraduate or graduate course of study at an accredited two-year or four-year college, university, or vocational-technical school for the entire academic year; and, be under age 26. Applicants are typically due in Jan - Mar.
For more information or to apply contact HR or see www.wellsfargo.com.
---
More College Scholarships

Scholarships for High School Seniors
Bill Gates Scholarship for Minorities
Home › Scholarships › Wells Fargo Scholarship