Art Scholarships

Apply for art scholarships and photography scholarships for 2022 school year. Use your talent to win an art scholarship or photography scholarship, including drawing, painting, sculpture, photography, and digital art.
In addition to these scholarships, be sure to check at your art school or college financial aid office for local and college art scholarships.
Last updated on May 25, 2022 by College Financial Aid Advice.
Art Scholarships and Photography Scholarships

Grand Canyon, William Holmes, 1882

Bank of America Achievement Awards – Art Scholarships
Application Deadline January each year (selected by the high school facility)
Award Amount up to $2,000. 320 finalists receive awards. $2000 for first place winners, $1500 for second place, $1000 for third place, and $500 for all other scholarship finalists
This program awards high school seniors in California in specific subject areas who plan to attend college in any state. Students are chosen by their schools for scholarships in these areas: agriculture, art, business, communications, computer studies, drama, English, ESL, foreign language, history, home economics, math, music, religious studies, social science, science, trades and industrial science.
Celebrate the West
Application Deadline April of each year
Award Amount $1000 first place, additional awards available
Open to high school students who create original art inspired by their state. This is sponsored by the Western Governors' Association and is open to students from western 19 states and islands. westgov.org/celebrate-the-west
---
Grandma Moses Art Scholarships for Women
Application Deadline March of each year
Award Amount $3000 stipend per year, may be renewed for up to 3 additional years (1 award per year)
Female high school seniors whose arts is in "congruence with the art of Grandma Moses" may apply. Scholarship requirements include planning to study art in a college, university or art school. Preference is given to students from the western United States. Merit based scholarship. For more information, contact the Western Art Association, Attn. Foundation, 13730 Loumont Street, Whittier, CA 90601
---
Valley of the Yosemite, artist Albert Bierstadt, 1868

John F and Anna Lee Stacey Art Scholarships
Application Deadline January of each year (submit applications November 1 - February 1)
Award Amount $5000 for 1 year, 1 or more awards per year
This scholarship is for art education along conservative lines, including painting and drawing in the classic tradition of western culture and favor realism or naturalism. Categories include painting from life, drawing from the figure, composition, or landscape. Financial need is not required. See these Art Scholarships website www.nationalcowboymuseum.org
---
Ellice T Johnston Ceramic Art Scholarships
Application Deadline June of each year
Award Amount $1800 stipend, 1 or 2 awards per year, may be renewed
Ceramic art scholarships require students complete two years of college or art school in sculpture, drawing, design and study of ceramics. To qualify, students must be residents or students in Oregon or northern California pursing upper division art school. See the Ceramic Art Scholarships website www.clayfolk.org/
The Tetons and the Snake River, photographer Ansel Adams, 1942

Scholastic Art Awards
Application Deadline varies, December or January of each year
Award Amount $10,000 to 15 recipients
These art and photography scholarships are open to students in grades 7 – 12. Art categories include digital art, photography, film, print, architecture, comic art, ceramics, drawing, fashion, jewelry, mixed media, painting, sculpture and video games. See the Alliance for Young Artists Art Scholarships website www.artandwriting.org
---
Young Arts Competition Awards
Application Deadline varies, most October
Award Amount up to $10,000 to 5 recipients for photography scholarships and 25 recipients in visual arts
The National Foundation for Advancement in the Arts offers this program to reward outstanding high school seniors in art, photography, music, dance and writing. Award winners are invited to Miami for the final competitions. For more information about the Young Arts winners or scholarships see www.youngarts.org
---
Bodie McDowell Scholarships for Outdoor Writing and Art
Application Deadline February of each year
Award Amount $1000 to $5000 per year for 3 or more recipients
These photography scholarship and art scholarship awards are for undergraduates entering their junior or senior year of college or graduate students. Students must major in a field related to outdoor communication, such as art, writing, photography, film, print or broadcasting. Bodie McDowell Art Scholarships website owaa.org
---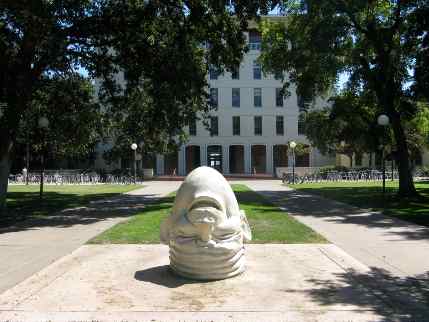 Sculpture at University of California, Davis

Create-A-Greeting-Card Scholarship Contest
Application Deadline typically open from mid March to mid January
Award Amount $10,000 plus $1000 for your school
Submit your photo, artwork or computer graphic for the front of a greeting card. Designs should be appropriate for business and consumer use, such as birthday or Christmas cards. Must be your own original work. This is one of the easy scholarships for artistic students! Open to high school, college and university students, and member of the armed forces. Must be a legal resident or have a student visa to attend school in the US. Must be at least 14 years old. Winner will be notified in March. For more information, see www.gallerycollection.com
---
Home › Scholarships › Art Scholarships