Zip Car Rental
Rent a Zip Car at universities or cities as part of the new car-sharing craze. These make cheap cars for college students on campus, and for those who occasionally need a car in a big city. In contrast to Uber or Lyft, you drive the Zip Car.
Last updated on September 21, 2023 by College Financial Aid Advice.
ZipCar Car Sharing Rentals- Great Cars on Campus
Zipcar NYC

Many 4-year colleges and universities discourage their incoming freshmen from bringing cars on campus. In most cases you are expected to live on campus at least for your freshman year, during which there is not much need for driving. Additionally, on-campus parking is expensive and an unnecessary cost you would be happy to do without. Fortunately, there is a smart alternative, Zipcar.
What is Zip Car?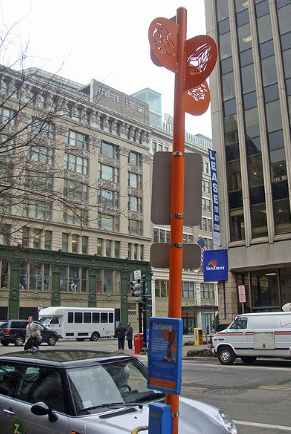 Zip car station in Washington D.C.

Zipcar is a car-sharing company that offers use of their cars to their members 7 days a week, 24 hours a day. The Zip Car company has partnered with many colleges and universities across the nation to provide students, faculty, and staff with rental cars and vans on campus for hourly or daily use. Members can reserve Zipcars online, by phone, or by text at any time.
Ride-sharing companies such as Uber and Lyft offer easy ways to get around while letting someone else do the driving.
Savings on Transportation - Cheap Cars for College Students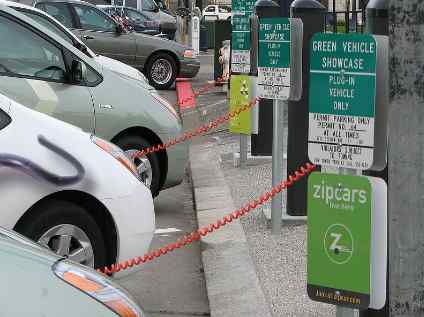 Electric cars and Zipcar SF, green transportation alternatives

You can check with the college of your choice to see if they offer Zipcar, or check out our list of colleges offering Zip car below. By becoming a student member, you can save a great deal on transportation since you will only pay for the hours that you use the vehicle, without being responsible for gas, insurance, maintenance, parking, or any lease fees. Furthermore, reservations can be made minutes in advance. For instance, if you want to drive to town to see a movie with your friends you'll reserve the car for only a few hours and you would split the rental cost with them.
On most campuses you are required to be over the age of 18 and have a valid Driver's License. (Non-students need to be 21 years of age to rent a Zipcar). Since some traditional car rental companies won't rent you a car if you are under age 25, or will charge you extra, the Zip Car is definitely a cheap car for college students to drive.
Some location offer vans, making it easy to move into that first apartment near school.
---
Zip Car Rates | ZipCar Coupon Codes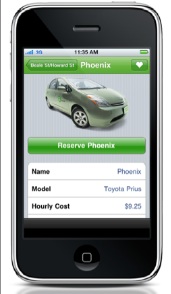 You can conveniently reserve a Zipcar from your mobile phone or online. Typical Zip Car rates include a membership fee, and an hourly rate. For example, you may pay an annual membership fee of $50, then hourly rate of $8 an hour or $66 a day to rent a zip car.
---
Zip Car Locations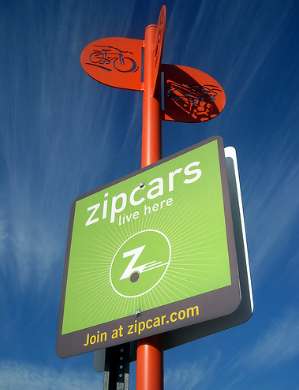 Zip Car locations
include over 50 cities in the US, including the following major cities/areas:
Atlanta GA, Baltimore MD, Zipcar Boston MA, Zip Car Chicago IL, London, New York City (Zipcar NYC), New Jersey, Philadelphia PA, Pittsburgh PA, Portland OR, San Francisco (Zip car SF) CA, Zipcar Seattle WA, Toronto, Vancouver and Washington DC.
Zip Car locations also include many major colleges and universities, including:
Alabama (AL)
University of Alabama
Arizona (AZ)
Arizona State Univ
California (CA)
Cal Poly, SLO
California State Chico
California State Long Beach
California State Univ, East Bay
Caltech
Chapman University
Loyola Marymount Univ
Occidental College
Point Loma Nazarene Univ
Pomona College
San Diego State University (SDSU)
Santa Clara University
Stanford Univ
UC Davis (UCD)
UC Santa Cruz
Univ of California, Irvine
University of California, LA (UCLA)
Univ of California, Riverside
Univ of California, Santa Barbara
Univ of California, San Diego (UCSD)
University of San Diego
University of Southern California (USC)
Connecticut (CT)
Connecticut College
Trinity College
Wesleyan University
Yale Univ
Delaware (DE)
University of Delaware
Florida (FL)
University of Florida
University of Miami
Georgia (GA)
Columbus State University
Idaho (ID)
Boise State University
Illinois (IL)
Elmhurst College
North Central College
University of Illinois
Indiana (IN)
Indiana University
University of Notre Dame
Maine (ME)
Bates College
Bowdoin College
Colby College
University of New England
Maryland (MD)
Hood College
Massachusetts (MA)
Amherst College
Babson College
Brandeis University
Clark University
Endicott College
Hampshire College
Holy Cross
Massachusetts College of Pharmacy and Health Sciences (MCPHS)
Smith College
Worcester Polytechnic Institute (WPI)
Wellesley College
Williams College
Michigan (MI)
Michigan State University
University of Michigan
Minnesota (MN)
University of Minnesota, Twin Cities
Winona State University
Nebraska (NE)
Creighton University
New Hampshire (NH)
Dartmouth College
University of New Hampshire
New Jersey (NJ)
Drew University
Monmouth Univer
Seton Hall University
New Mexico (NM)
University of New Mexico (UNM), Albuquerque
New York (NY)
Hamilton College
Hofstra University
Purchase College
State University of New York (SUNY) Geneseo
SUNY Oswego
Syracuse University
University at Buffalo
University of Rochester
Vassar College
North Carolina (NC)
Duke University
East Carolina Universities
Elon Univ
Meredith College
North Carolina State University (NCSU)
UNC, Chapel Hill
University of North Carolina Greensboro
Wake Forest Universities
Oregon (OR)
Reed College
Willamette University
Pennsylvania (PA)
Bryn Mawr Colleges
Bucknell Universtiy
California University of Pennsylvania
Dickinson College
LaSalle Univercity
Tennessee (TN)
Belmont Universities
Rhodes College
Vanderbilt University
Texas (TX)
Baylor University
Rice University
University of Texas, Austin
Vermont (VT)
Green Mountain College
Middlebury College
Vermont Law School
Virginia (VA)
Christopher Newport University
George Mason University
Old Dominion Universities
The College of William & Mary
University of Richmond
University of Virginia
Virginia Commonwealth University
Washington State (WA)
Pacific Lutheran University
University of Puget Sound
West Virginia (WV)
West Virginia University
Wisconsin (WI)
Marquette University
University of Wisconsin, Milwaukee
Home › Student Travel Deals › Zip Car