Paying off Student Loans
Need help paying off student loans? You aren't alone. Learn about how to pay down your debt and get student loan debt forgiveness. Share your student loan advice and read other students tips on how to pay off your student loans.
Last updated on September 21, 2023 by College Financial Aid Advice.
Paying off Student Loans - Income Based and Other Repayment Programs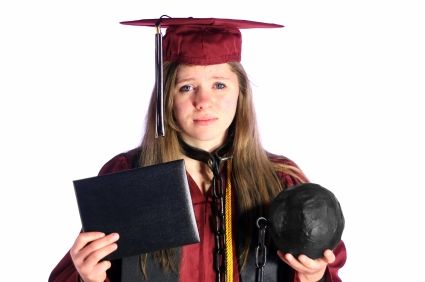 If you are looking for help in paying off student loans, you should first look at some of the federal programs for this effort. There are programs aimed to help groups of people such as:
Career based - those who work in specific jobs
Income based payment program - those who paid regularly on their loans, which can be limited or forgiven after so many years, based upon income
School based - those who attended certain schools, typically not-for-profit schools who made false claims to students about job prospects
For more information about federal government programs to help paying off student loans and student loan debt forgiveness, see Student Loan Debt Forgiveness.
---
Student Loan Advice

The decision to take out student loans is a big one. Before you do, read about some advice from other students. Paying off student loans is so much harder than taking the loan money!
The Unknown (Crystal, New Mexico)
At the end of my program upon signing my exit papers, I was hit with a hefty debt. I was astonished by the amount, it was jaw dropping. Looking over the numbers and the interest for two student loans, that if I decided to pay the minimum amount then I will be paying it off well into my 40's, and I'm 22 now.
Saving Your Money: The Best Way To Pay Off A Student Loan! (Justin, Chicago, IL)
The first way you can pay back your loan successfully is, saving. Saving is the biggest part of paying back student loans. If you don't save your money, then most likely the longer it'll take to pay them off! That means no splurging on wants, dining out every other weekend, and spending irresponsibly.
Growing Exponentially (Katie, Colorado)
The first bill I received from my college student lender spurred me to reevaluate my spending. I became a statistic…an adult living with their parents. My second full-time job became all about saving. I saved money any way that I could. By consolidating my student loans, I was able to bring my interest rates under control. I also set up an auto-draft system with my lender, thereby raising my credit score and further controlling my cash flow.
Don't Default on your Student Loans (Brooke, Texas)
Don't default on your student loan!!!! The lenders loaned you the money in good faith and trust you to pay it back. Once you graduate it may take you sometime to find work or you may find a job that does not pay enough for you to pay on your student loans. Simply, call the lender and explain your situation and they will either give you a forbearance or some sort of payment arrangement to help you out so that your loans will not go into default.
Share Your Tips About
Paying off Student Loans
Do you have some great tips to share about student loans for college? Enter our scholarship essay contest to win $1000 for college. Share your insights about the best student loans, how to pay for them, student loan debt forgiveness and more. See our Scholarship Rules
What Other Visitors Have Said
About Paying off Student Loans
Click below to see submissions from other visitors about paying off student loans.

Home › College Loans for Students › Paying off Student Loans