FAFSA Official Website
Links to FAFSA.gov
Easy links to FAFSA official website application, FSA ID, help and more. The official FAFSA site, provided by the US federal Department of Education, is
studentaid.gov
, but you can also get there from fafsa.gov. We have provided links below to the pages of the official FAFSA site to assist you in your student financial aid process.
Note: The FAFSA application forms for 2023-2024 is now available. The form for 2024-2025 are delayed this year as they are being simplified. They will be available in December 2023.
Last updated on November 25, 2023 by College Financial Aid Advice.
What Does FAFSA Stand For?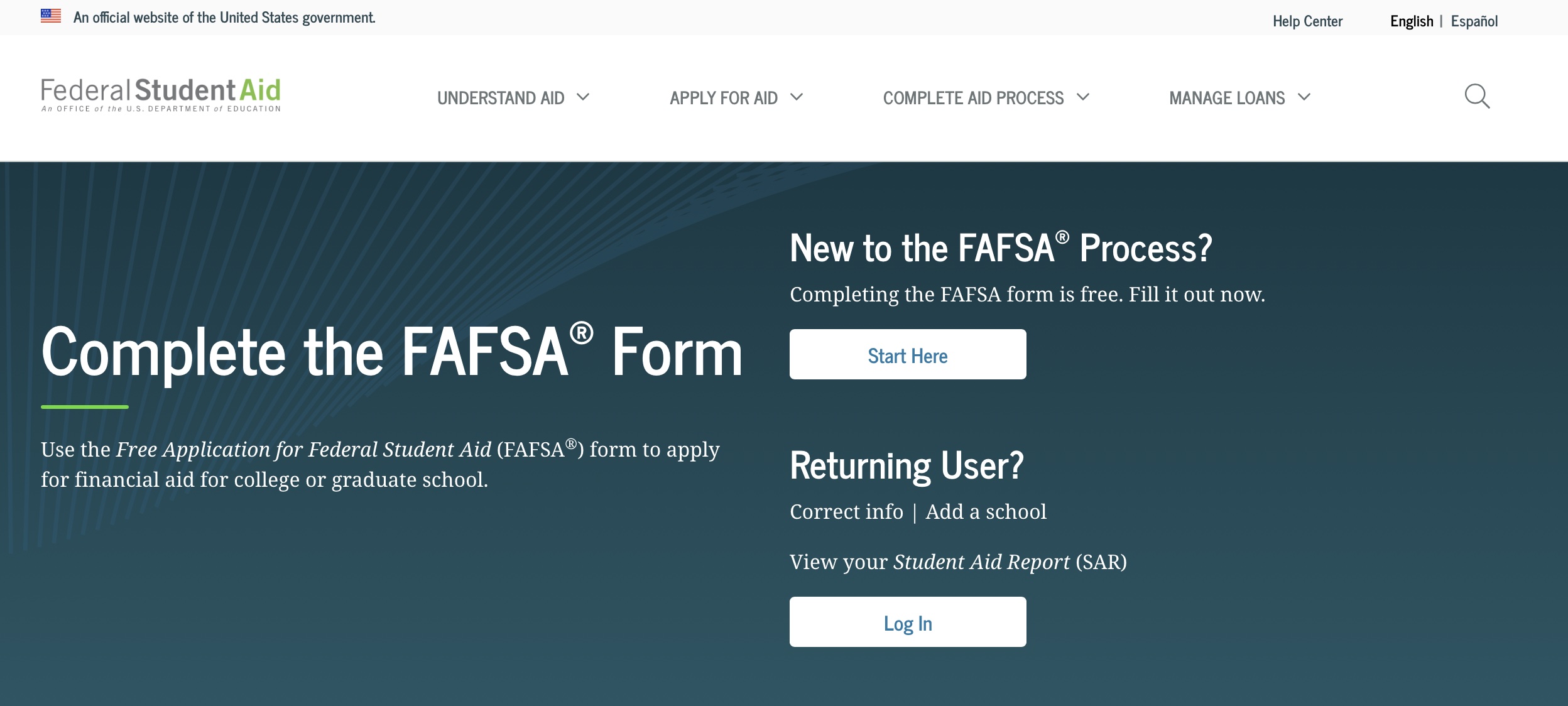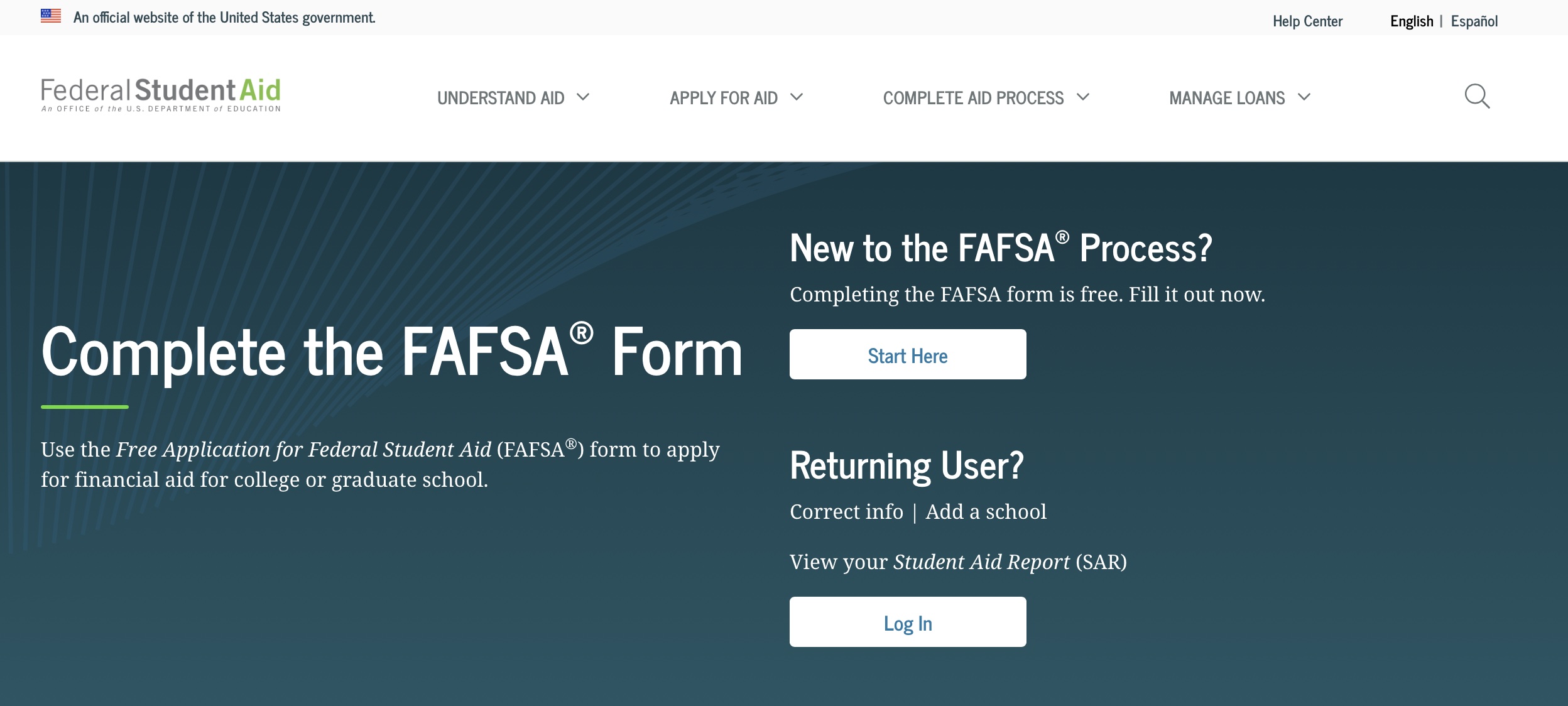 FAFSA Official website - https://studentaid.gov

If you are new to apply for college, you probably are thinking,
What does FAFSA stand for?
FAFSA stands for Free Application for Federal Student Aid. It is a free form, from the Federal Student Aid office of the U.S. Department of Education. FAFSA is your gateway to be considered for 9 different federal student aid programs such as
Federal Pell Grants
, over 600 different state aid programs, and most of the institutional aid programs at private and public colleges and universities in the U.S.
FAFSA is also required for consideration to receive financial aid for specific student populations such as athletes, students with dependents, and military and their dependents.
The U.S. Department of Education begins accepting the FAFSA applications beginning October 1 of each year for the next fall academic year. Most federal, state, and institutional aid are considered on the basis of first come, first served. Therefore, students should submit their FAFSA applications as early as possible to be considered for maximum financial assistance.
FAFSA.gov Links to FAFSA Official Website
Here are the major links to the official FAFSA site, where you can download forms or file your FAFSA online - all for free! Many of the forms are available in both English and Spanish.
FAFSA.gov offers printable FAFSA forms that you can either fill out on the screen and print the completed form, or print out the blank form to complete the printable FAFSA application.
The 2024-25 printable FAFSA Application will tentatively be available in December 2023, unless they plan to no longer offer that option.
2023-24 Printable FAFSA Application
If you don't have access to the internet or a printer, you can request a paper FAFSA by calling the Federal Student Aid Information Center at 1-800-433-3243. It takes about 3 weeks to process a paper FAFSA, so an online submission is preferred. Over 98% of students submit their FAFSA application online.
---
FAFSA.gov (now studentaid.ed.gov) offers some tips for help with FAFSA applications. Refer to the link below for help from the FAFSA official website.
FAFSA4caster tool is an online FAFSA estimator offered by FAFSA.gov. You can enter some basic information, and it will estimate your eligibility for federal financial aid, such as Pell Grants, Work-Study and Direct Stafford Loans.
For the link to this FAFSA estimator tool, see studentaid.gov/aid-estimator/
---
This FAFSA on web worksheet is available online as a pdf. This printable FAFSA form is designed to be used as a FAFSA worksheet to print out and prepare your information before you enter it online. It is sometimes used at college financial aid workshops.
At the official FAFSA website, you can complete your application FAFSA free online. This is the preferred method to submit your FAFSA, and it is free from the official FAFSA site.
Use this link to create, update, renew or submit your FAFSA application form online. studentaid.gov
---
You need a FSA ID to make changes to your electronic FAFSA or to file your FAFSA online. It is strongly recommended that you obtain a FSA ID as soon as possible, and if you previously had a FAFSA PIN, you can link them. If you are a dependent student, you will need one for the parent and one for the student. Note: this replaces the old FAFSA Application PIN Number
Use this link to create or edit your FSA ID. studentaid.gov/fsa-id
---
Home › FAFSA › FAFSA Official Website