College Tuition Assistance
Western Colleges Offering Tuition Assistance for Non-Residents
Are you in need of some college tuition assistance? Are you thinking about attending an out-of-state college or university but aren't sure if you can afford to pay the high non-resident tuition? Well, if there is a will, there is a way. There are several student exchange programs that offer a broad range of higher education options at undergraduate, graduate, and professional levels.
Last updated on November 25, 2023 by College Financial Aid Advice.
WUE Schools Offer Cheaper Tuition Non-Residents
WUE University of Oregon

Get out-of-state college tuition assistance at western colleges, WUE schools, in the United States.Western Undergraduate Exchange (WUE) is an example of such a program for freshman admission and transfer students, offering cheaper tuition for out-of-state college students.
Similar programs exist in the:
What is WUE?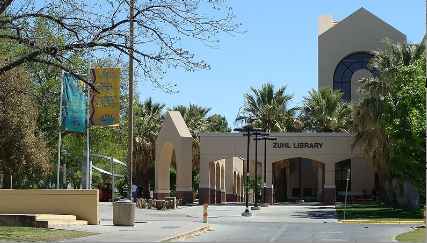 New Mexico State University
WUE (pronounced "woo-wee") is a program of the
Western Interstate Commission for Higher Education (WICHE)
. This program offers students in western states the possibility of enrolling in more than 140 participating two-year and four-year colleges and universities at a reduced (cheaper) tuition level by paying only 50% above the institution's regular resident student tuition. Furthermore, the participating colleges and universities may give students additional discounts on the WUE tuition rate.
WUE Schools and States
WICHE member states where you can get out-of-state college tuition assistance include:
Alaska
Arizona
California
Colorado
Hawaii
Idaho
Montana
Nevada
New Mexico
North Dakota
Oregon
South Dakota
Utah
Washington
Wyoming
Search the WUE Online Database to see which colleges and universities participate and which programs are available at the discounted tuition WUE rate. You need to apply early to be considered for this program because the WUE reduced tuition rate is not automatically awarded to all eligible candidates. Many institutions limit the number of new WUE students each academic year. For more information go to:
You may also contact:
WICHE Student Exchange Programs
Phone Number: 303.541.0214
---
Admission Requirement for WUE Applicants
Entrance requirements for WUE applicants are left entirely up to the participating institutions. Therefore, the participating college or university independently determines admissions requirements for WUE students. These typically include minimum GPA and/or ACT/SAT score requirements; some institutions require higher GPAs and test scores for WUE students. If you are a WUE applicant, you are not required to demonstrate financial need to enroll at the discounted rate.
Home › Tuition Assistance Programs › College Tuition Assistance in the West