New England Tuition Assistance Program
Save an average of $7000 with out of state tuition assistance program for New England colleges! These programs are similar to affordable college tuition programs in other regions including the
Midwest
,
West
,
Washington DC
and the
South
.
Last updated on September 21, 2023 by College Financial Aid Advice.
Out-of-State Tuition Assistance Program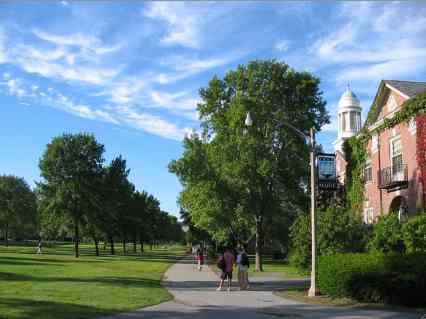 University of Maine

For those of you who live in New England, there is a tuition assistance program that works much like the other regional out of state college tuition assistance programs. College students in the New England region can enroll in out-of-state New England public colleges and universities at a discount through the NEBHE program. Full-time college students save an average of $7000, making college more affordable for families. This is one of the best kept secrets for cheap out of state tuition.
What is NEBHE?
New England Colleges Tuition Program

University of Massachusetts Amherst Pond

The New England Board of Higher Education (NEBHE) offers higher educational opportunities and services for college students. They work together to share educational resources to make college cheaper for the residents of the northeast New England States (Connecticut, Maine, Massachusetts, New Hampshire, Rhode Island, and Vermont).
Check out the New England Tuition Assistance Program NEBHE website at www.nebhe.org , or continue reading below for more information on their out of state tuition assistance programs.
Contact Information:
New England Board of Higher Education
45 Temple Place
Boston, MA 02111
Telephone: (617) 357-9620
Email: tuitionbreak@nebhe.org
SCSU NEBHE CONTACT
Registrar Office
501 Crescent Street - WT building
New Haven, CT 06515
Phone number: (203) 392-5307
What is RSP at New England Colleges?
University of Connecticut Chemistry Building

The NEBHE Tuition Break program is also called the New England Regional Student Program (RSP). The RSP allows New England residents to pursue more than 700 undergraduate and graduate degree programs offered by the region's 82 public colleges and universities including:
• Connecticut State University System
• University of Connecticut
• Maine Maritime Academy
• University of Maine System
• Massachusetts State University System
• University of Massachusetts
• University System of New Hampshire
• University of Rhode Island
• Vermont State Colleges
• University of Vermont
To be eligible for the RSP Tuition Break, students must enroll in an approved major that is not offered by the public colleges or universities in their home state.
At certain colleges, students may also qualify when the out-of-state college is closer to home than the in-state college offering the same program. Many community colleges and a few four-year campuses allow this eligibility.
More detailed SRP information can be found on their website.
---
Applying for New England Colleges Tuition Assistance Program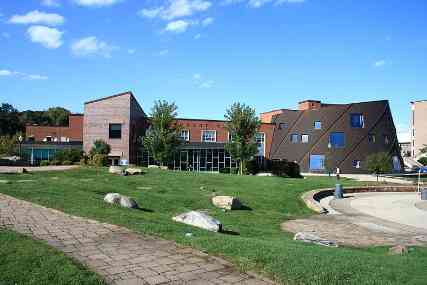 Connecticut State University Student Center

If you are looking for affordable college tuition for New England colleges, this is a great program to apply to. Interested students must complete the college's application for admission and declare an approved major offered through the RSP by that college.
Some college applications include a box to check for "New England Regional" or "RSP." Otherwise, a student should indicate "Applying for Regional Student Program (RSP) status." NEBHE does not require a separate college application.
The college notifies a student of RSP status usually at the time of acceptance to the college.
IMPORTANT NOTE: Each degree program is offered by one or more specific colleges/universities. Freshman students are not eligible for some programs, check online for which majors.
What is Québec Exchange?
University of Quebec

The New England / Québec Student Exchange program provides eligible New England College students, who are enrolled at a participating New England colleges or universities, the opportunity to spend up to two semesters at participating Québec Canada college campuses.
Participating Québec Institutions include:
• Bishop's University
• Concordia University
• École Polytechnique de Montréal
• McGill University
• Université Laval
• Université de Montréal
• Université de Sherbrooke
• Université du Québec
• Université du Québec à Trois-Rivières
• Université du Québec à Chicoutimi
• Université du Québec à Rimouski
• Université du Québec en Outaouais
• Université du Québec en Abitibi-Témiscamingue
• Institut national de la recherché scientifique
• École nationale d'administration publique
• École de technologie supérieure
Participating New England Institutions include:
Connecticut (CT)
• Eastern Connecticut State University
• University of Connecticut
Maine (ME)
• University of Maine (Orono)
• University of Maine at Fort Kent
• University of Maine at Presque Isle
• University of Southern Maine
Massachusetts (MA)
• Bridgewater State University
• Fitchburg State University
• Framingham State University
• Stonehill College
• University of Massachusetts Amherst
• University of Massachusetts Boston
• University of Massachusetts Dartmouth
• Westfield State University
• Worcester State University
New Hampshire (NH)
• Keene State College
• New England College
• Southern New Hampshire University
Rhode Island (RI)
• University of Rhode Island
Vermont (VT)
• Castleton State College
Contact information New England and Quebec Exchange:
Home › Tuition Assistance Programs › New England Tuition Assistance Program